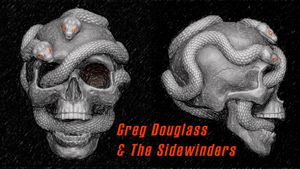 GREG DOUGLASS & THE SIDEWINDERS
After 7 years of burning through the club scene with his four-piece band, Greg decided, at the age of 71, that he wanted to play music that rocked harder and made audiences happily insane. He made personnel adjustments and formed GREG DOUGLASS & THE SIDEWINDERS, a jaw-dropping, sizzling select group  of musicians playing rockabilly, surf, killer instrumentals, hard-rock classics, and...of course...a juicy selection of tunes from bands that Greg recorded and toured with: STEVE MILLER, VAN MORRISON, EDDIE MONEY, HOT TUNA, PAUL BUTTERFIELD and much more.
Once you've been bitten by the Sidewinders, there is no cure; you'll just have to come back for more strong, sweet venom!
New Fan Video: GREG DOUGLASS & THE SIDEWINDERS FIRST LIVE GIG!
"Greg Douglass & the Sidewinders had their first gig and the band is explosive. This is my fan video of "Oh Well" from the show. Greg is a brilliant talent and it doesn't matter if it is 1977 or 2021... his guitar playing can truly take your breath away! "
- Richard Ticho
GREG'S GEAR
GREG'S MUSIC IS AVAILABLE ALL OVER THE INTERNET... BUT THIS IS THE ONLY PLACE TO GET ALL YOUR GREG DOUGLASS MUSIC AND GEAR DIRECTLY FROM THE LEGEND HIMSELF... GREG DOUGLASS!
CDS & DOWNLOADS AVAILABLE NOW!